Overview
AMS (Asset Management System) is an optimal asset management system that easily manages assets using various equipment. It is possible to manage assets more efficiently and conveniently by utilizing the electronic tracking function for assets using next-generation information devices. RFID and various barcode devices (industrial PDA, Android PDA, barcode printer, etc.) can be selected according to the desired system, and work can be performed by linking existing asset information.
Features and Advantages
Computerization of asset data increases work efficiency.
Easier due diligence with mobile PDAs.
Real-time asset status at a glance.
Integration of reality and information is possible.
Easy to manage historical information such as asset movement/rental/disposal.
According to the environment, it is possible to use conveniently by customized production for each customer.
System Process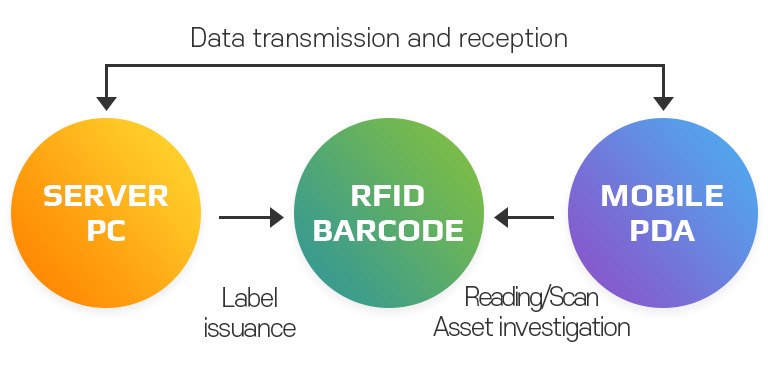 01

Create and attach asset classification tags with barcode or RFID

02

Asset registration using mobile PDA

03

Handling / loan / disposal of registered assets

04

Query the history of processed assets

05

Asset status management through due diligence survey
System Configuration
Standard information management

Asset registration
Location registration
Department registration
User management

Barcode issuance

Asset barcode issuance
Location barcode issuance

Equipment management

Equipment registration
Equipment Status

Inventory adjustment

Inventory adjustment
Asset transfer
Asset sale / disposal / repair management

Data transmission

Asset information transmission
Location information transmission
Department information transmission
Asset transfer transmission

Data reception

Asset reference reception
Asset transfer reception
Asset disposal reception
Asset sale reception

Status inquiry

Asset status inquiry
Repair status inquiry
Disposal sale status inquiry
Reference status inquiry
Introduction Effect
Management strategy aspect
• Securing transparency in corporate accounting through statistical identification of physical assets
• Effective management of holding assets, such as preventing duplicate investment in fixed assets, and predictive management from the manager's side due to fixed asset management functions
Management operation aspect
Quickly grasp the current status of assets
Enhance the convenience of management such as receipt, transfer, disposal, and rental
Increased convenience in processing statistics of assets
Fast, convenient and accurate check of property
Increased efficiency through management using barcodes
Shortening the time required for asset management