INTEGRATED MANUFACTURING EXECUTION SYSTEM
Overview
MES(Manufacturing Execution System) is a system that manages the overall production activities from ordering products to inspecting finished products. It is a system that collects, analyzes, and monitors production processes in real time by collecting various types of information, activities, and equipment operation information.
System Flow
01

Work order

02

Process input

03

Production process

04

Quality inspection

05

Warehousing / delivery
Features and Advantages
Design is done by standardizing the process for each sector, and functions can be selectively adjusted.
Decrease inventory holding and see detailed inventory by grasping actual inventory status by process
Accurate work orders and production systems can be established
Efficient management of work improvement through real-time defect rate identification
Promotion goals
The goal is to secure continuous competitiveness through MES construction with 1) Creative work processing and 2) Securing a platform of change to eliminate internal inefficiencies.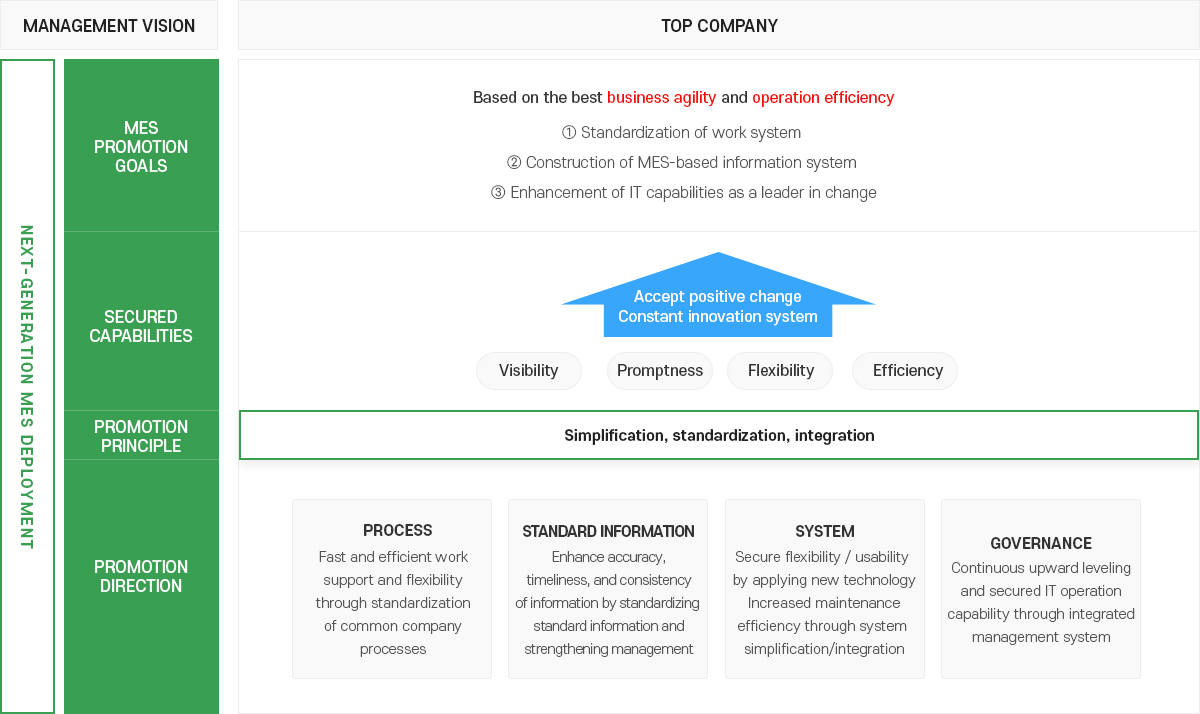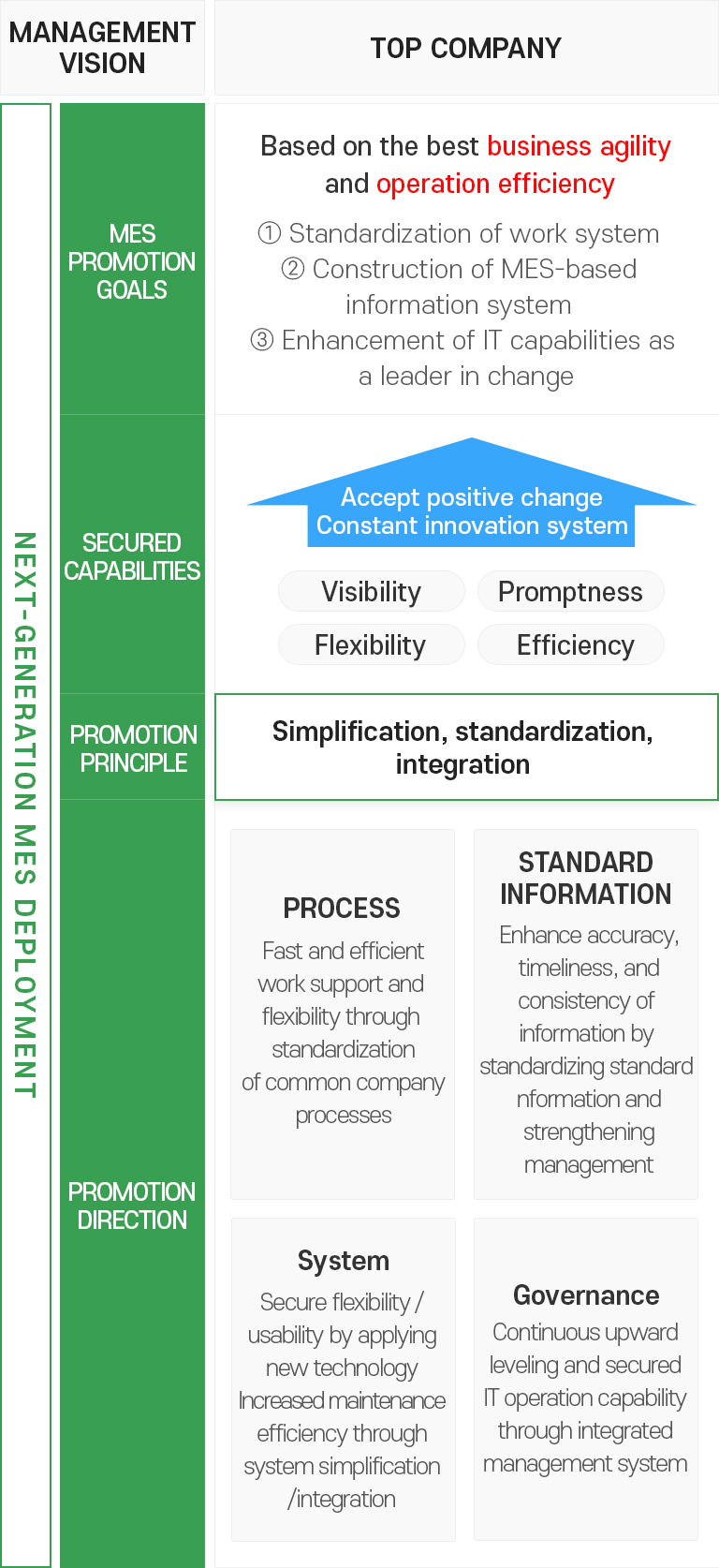 Expected Effects of Introduction
Business operation

Real-time production information sharing

Real-time tracking of production information
Quality information inquiry
Facility utilization check

Increased work convenience

Cost management

Cost reduction
Increased productivity
Improvement of facility utilization rate
Efficient production planning facilitates resource management

Production and management

Shorter working hours

Shorten business hours through real-time information utilization and sharing

Real-time worker performance processing
Increase worker productivity

Cost management

Secure reliability through quality improvement
Shorter delivery times and transparent production information
System Configuration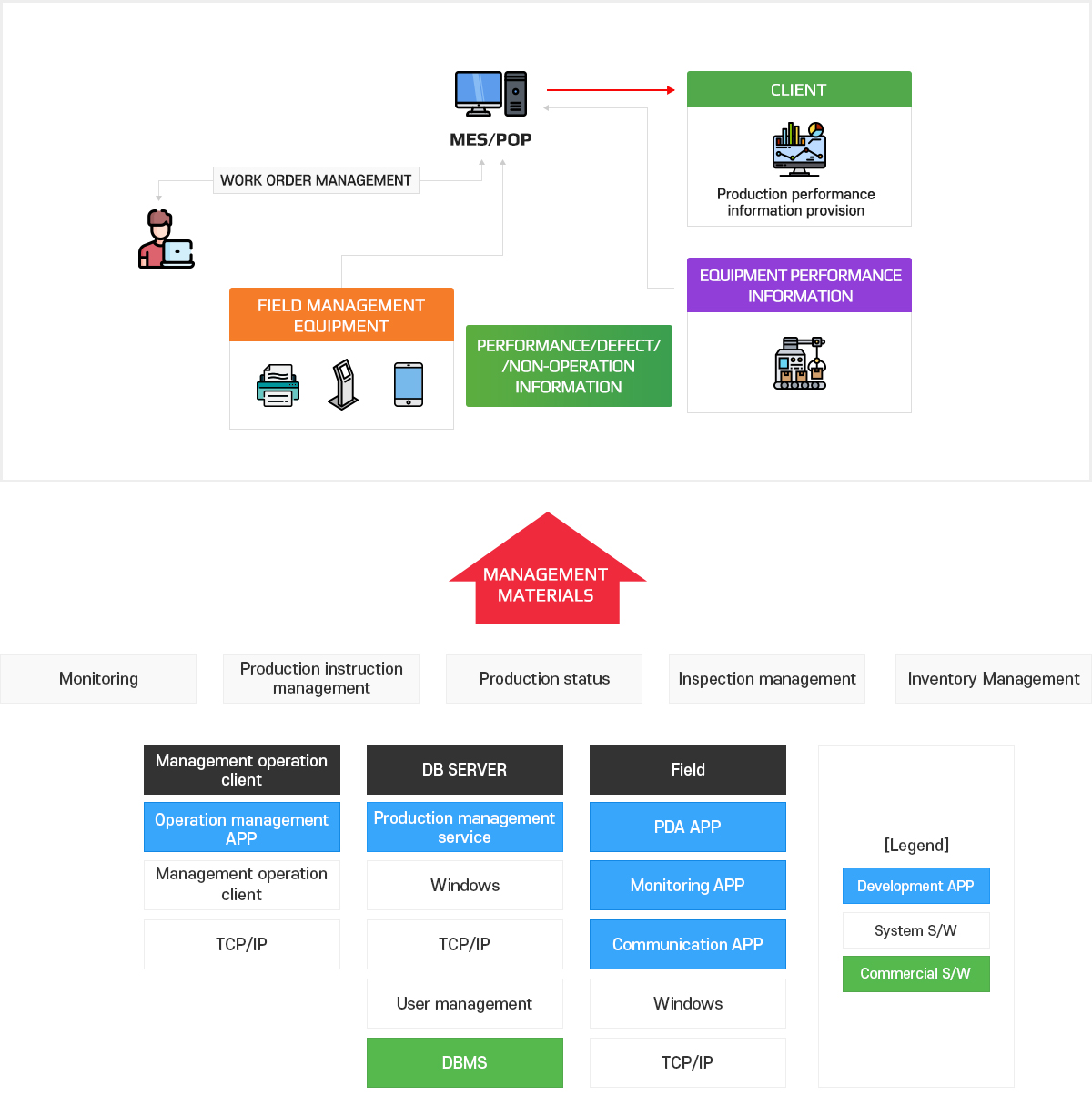 Maintenance Plan
Efficient resource management
Customer relations improvement
System safety
Maintenance strategy

Post management support by the company's technology expert group and industry experts
Maintenance support centered on project participants
Provide one-call service through unified window management

Maintenance procedure

Maintenance target

Application S/W
Introduction equipment, system S/W

Support scope

Information system operation support (inquiries, education, etc.)
Evaluation of operation level
Functional Improvement patch

Maintenance method

Maintenance type

On Line and On Time Service
On Time Service (Basic, Silver, Gold, SM method)

Service center dedicated consultant support

Service procedure

External support

Introduction H/W, S/W technical support
Operational technical support
Performance technical support
Mutual cooperation with technical support companies
※ SM: stands for System Maintenance, System Management and collectively refers to the resident support method
Program Function Configuration
Basic management

Product Code / customer Information
User code / Faulty code
Workplace information / facility information
Process order / Non-operation information
Defect information / quality information
System common code
Authority management
Menu management

Production management

Work order, production performance management
LOT history tracking
Work report by job
Production defects by period
Inventory status by period
Equipment operation status by period
Performance against plan status
Hourly, monthly production

Production process management

Factory performance processing
Defect performance processing
Daily production defect status
Production status against plan status
Work performance by date status
Production performance by equipment status
Non-operation by facility status
Process provision status

Production Management

Equipment maintenance history management
Equipment spare parts management
Equipment spare parts use management
Facility operation rate management
Operation status by facility
Non-operation status by facility
Equipment failure ranking status
Facility inactivity ranking status

Warehousing management

Barcode issuance (semi-finished product)
Barcode issuance (product)
Barcode issuance (return)
Receipt request
Receipt inspection
Receipt confirmation
Receipt standby management
Redzone receipt (terminal)

Barcode management

Material in/out
Product in/out
Process transfer
Process inspection
Physical inventory inquiry

Production status monitoring

Process operation status
Facility operation status
Order preparation status
Inventory status
Performance against plan status

Quality management

Import process inspection request
Shipment import inspection request
Process shipment defect inspection
Defect status by product
Inspection equipment interlocking

Shipping Management

Delivery request, inspection
Confirmation of delivery
Shipping status
Daily status
Shipment transfer status

Inventory Management

Inventory history management
Cell monitoring
Status by product
Long-term inventory status
Product warehouse monitoring